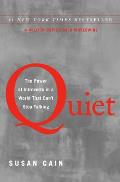 I think that Susan Cain's book busts many myths that have caused us to undervalue introverts – and possibly overvalue extraverts. She expanded the definition of introverts from those who get energy from within (a more Jungian/MBTI definition) to a broader one including 'solitude-seeking' and 'contemplative,' but also 'sensitive,' 'humble,' and 'risk-averse.'
What I found so impressive about this book was the way that Susan Cain weaved extensive research, with theory and stories about real people and suggestions about how leaders, teachers, parents, friends can take about introversion and extroversion with a clear description of how western cultures, especially American, have shifted from valuing "character" (e.g. Abraham Lincoln) to a valuing more outgoing behavior.
She also describes how introverted leaders are more successful with self-directed employees than are extraverted ones, as the introverted leaders often leave employee alone to do their work and don't impose collaboration or working as a group for all situations.
And, I found it inspiring to read the stories of real people and how they've struggled with, overcome challenges of being introverted, parented introverted kids more successfully and how teachers can teach more effectively to all kids. I highly recommend this book for everyone – introverts and extraverts- especially since 30-50% of people prefer introversion.
6 Comments for this entry
The coaching sessions were phenomenal.   You took something that is complex and messy – how to change my state of being and the results I ...


Leanna Anderson, Manager/Hospice

I had the pleasure of working with Pam Rechel in my last position as Director of Imaging Services at Oregon Health & Science University in ...


Erwin Schwarz